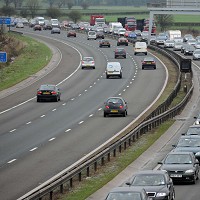 Luton Festival of Transport will focus on the safety of young drivers in Bedfordshire on Sunday.
Traffic officers will help a "trapped passenger" in a wrecked car supposedly involved in a car crash, before breathalysing him.
The officers from the Highways Agency, who patrol parts of the M1 will be around all day answering questions and giving advice on safety and dealing with motorway incidents.
The car crash scenario has been arranged by Luton and District Driving Schools Association (LADDSA), and will feature two young volunteers.
Two Highways Agency traffic officers will be first on the scene after the 'crash'. They will liaise with emergency services, close off roads and set up a safety cordon.
Mark Doggett, traffic officer manager for the Highways Agency said: "Many accidents are avoidable. Being on motorways 24 hours a day, we see the mistakes some drivers make that can sometimes ends up ruining lives.
"This event gives us a chance to inform the public and make a difference. The exercise is a convincing way to bring road safety ideas home to young people."
Copyright © Press Association 2009