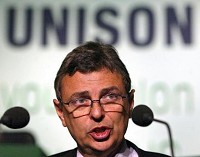 Cash-strapped Transport for London (TfL) is wasting millions of pounds on £2,700-a-day consultants while laying off staff, according to unions.
Unison and the Transport Salaried Staffs Association (TSSA) say that one department alone, Congestion Charging and Traffic Enforcement, spent £5.4 million on consultants in just one year.
Said Unison leader Dave Prentis: "If one small department is wasting that much, then the total spend must be colossal. TfL cannot be serious about saving money if it can afford million-pound spending sprees on consultants."
TSSA general secretary Gerry Doherty added: "It's the economics of the madhouse to pay consultants millions while loyal and experienced staff are being sacrificed to fill a black hole in the books.
"We want to see all consultants shown the door before we even talk about staffing levels with TfL."
A TfL spokesman said: "A small number of specialist staff have been employed to assist us to deliver the best possible value for money, but they too will leave TfL once this programme has been completed."
Copyright © Press Association 2009