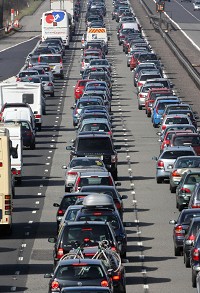 Britain's traffic jams take up two days of commuters' lives each year, research has revealed.
Kia Motors' Cleaner Driving Report says as many as 71% of people are affected by daily stand-stills, with an average 12 minutes of each rush hour journey spent driving at speeds below 5mph.
Regionally, those living in Greater Manchester are hit particularly hard by traffic jams, with the 50,000 commuters who use the congested A556 wasting a staggering half a million hours in queuing-time each year.
Sue Mulcaster, a Kia Motors spokesperson said: "For many, driving to work is the only option - a lot of people need to use their car at work, while some live in areas where public transport just isn't viable.
"Taking this on board, car manufacturers have a duty to ensure the cars that are on the road are as environmentally responsible as possible."
The survey also found that 66% of commuters admitted to speeding when the traffic clears to make up time, while a further 62% said they grow angry when they hit queues.
Copyright © Press Association 2009