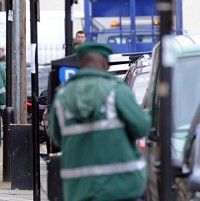 Traffic wardens who issue more tickets are more likely to be rewarded with overtime, according to the research of one academic.
Two lists were compiled: one ranking wardens by the number of tickets they wrote out every hour, the other ranked by the amount of overtime granted to each worker.
The data, according to academic William Knottenbelt, shows a clear link.
Mr Knottenbelt, a reader in applied performance monitoring at Imperial College London, says he statistically analysed the data using information provided by Kensington and Chelsea Borough which employs 111 parking wardens. He also accompanied a warden on their regular round.
The result of the research is said to be statistically significant enough to provide evidence of a link between overtime and the rate of fines issued by enforcement officers.
Barrie Segal of the appealnow.com campaign website, which opposes unfair parking tickets, said: "This proves that suggestions that wardens are rewarded for the number of tickets they dish out is not an urban myth."
A spokesman for the local authority said: "Our contract with NSL (the outsourcing firm which carries out parking enforcement) contains no incentives of any kind to increase the number of tickets issued."
Copyright © Press Association 2013