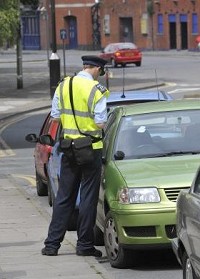 Parking tickets will still be handed out even if traffic wardens go on strike in Northern Ireland, according to the company that employs them.
NSL Service Group, which sacked 25 of its 180 attendants after they walked out last year, says it has a "moral and contractual obligation" to deliver an "important public service".
Its says: "Should other members of (public-service union) Nipsa take part in industrial action we will, of course, have a contingency plan in place to ensure that we can still deliver that service; we would not expect the public to see any difference in the level of service."
The union has welcomed a pledge by regional development minister Conor Murphy that he will intervene in the long-running dispute.
Said general secretary John Corey: "It is a step forward for the minister to meet the company. We expect him to make it clear that the dismissal of the attendants was not proportionate or fair, and that they should be reinstated."
He is consulting the remaining attendants about possible strike action, and expects a ballot in the middle of the month in support of their sacked colleagues.
Copyright © Press Association 2009