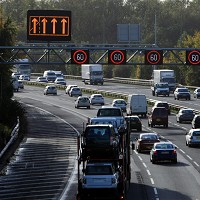 The RAC has expressed its "severe reservations" over the safety implications of allowing drivers to use the hard shoulder on a stretch of the M25.
The motorway section between junctions 23 and 25 in Hertfordshire sees the hard shoulder become a permanent traffic lane from Monday, an experiment which will be replicated on highways around other parts of the country as so-called 'smart' motorways are gradually trialled and introduced.
The hard shoulder will later be opened to traffic in May from junctions five and six/seven on the border between Kent and Surrey.
The RAC is among motoring groups to voice its concerns over the system.
The main safety concern centres around the fact that emergency refuge areas will be further apart in sections of all-lane running schemes (up to 2.5km apart) than the Dynamic Hard Shoulder ones (500-800m apart).
RAC technical director David Bizley said: "We have raised concerns with the Highways Agency about the added risk arising from increased distance between emergency refuge areas, and we are disappointed so far at the absence of action to address them.
"Dynamic hard shoulder running has proved to be very successful in terms of reducing congestion and has a good safety record. Indeed, so far, these sections of motorway have proven to be significantly safer than a conventional three-lane motorway with a hard shoulder.
"However, we believe the greater distance between emergency refuge areas creates an unnecessary risk to the safety of any motorist breaking down in lane one on an all-lane running section."
Roughly £1.7 billion is to be invested into south-east England roads by 2021, with an extra 145 new lane miles, said John Martin, senior project manager for the highways Agency.
Eighty-four per cent of drivers surveyed by the RAC felt that the hard shoulder was important in breakdown and accident situations and 82% said they would feel 'very concerned' if they broke down in lane one - formerly the hard shoulder - of a four-lane/all-lane running section of motorway.
Mr Martin is urging drivers to "get smart" about learning how to use the system, and familiarising themselves with signs and signals involved, as well as what action to take if their vehicles break down.
But David Bizley added: "We are very much in favour of increasing capacity on our motorways and we are not opposed to the use of the hard shoulder as a running lane, but, as a society, we should be aiming to make our roads safer for people who break down and not the reverse.
"The Government appears willing to compromise the safety of those breaking down in order to save on the cost of building more emergency refuge areas. We believe more needs to be done to communicate the changes and safety advice to motorists, particularly to infrequent motorway users or people who don't live near these stretches."
Copyright Press Association 2014