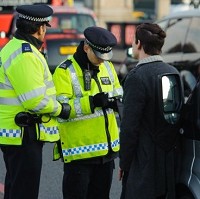 The number of traffic police has fallen by nearly a quarter this decade, an RAC study shows
The figures represent a "mockery" of driving laws as there are far fewer officers in place to enforce them.
Some constabularies have seen numbers plummet by as much as 70%. Cornwall and Devon suffered the biggest cuts and did not have any traffic officers employed on a full-time basis between March 2011 and 2013.
Across Wales and England the volume of dedicated staff plunged 23% to 4,356 last March, from 5,635 four years earlier.
Only Warwickshire and Suffolk had more traffic officers by the end of this timespan than at the start.
Essex, which had a 71% drop in traffic officer numbers, Nottinghamshire (a fall of 68%) and Wiltshire (47%) were among the biggest losers.
Pete Williams. RAC's external affairs head, said: "These figures make a mockery of motoring law. If there are not enough police on the road, we can introduce all the new rules we want, but those breaking them just will not get caught.
"While cameras are good at catching speeders and drivers who go through red lights, offences that relate to general poor behaviour at the wheel still rely on a police officer to enforce them."
He continued: "The majority of motorists in England and Wales claim to obey the law of the road and would therefore like to think the minority of drivers that flout the rules stand more chance of getting caught and properly punished than they seem to at the moment.
"Our research shows that millions of motorists are frustrated with the cut in traffic police numbers and believe the chances of drivers being pulled up for breaking the law are now minimal."
Only last year the RAC's 2014 Report on Motoring report showed six in 10 drivers thought there were not enough police officers to impose motoring laws.
This percentage think that law-breaking motorists stand little chance of being of being convicted unless it involves camera-enforced offences such as jumping red lights and speeding.
Copyright Press Association 2015