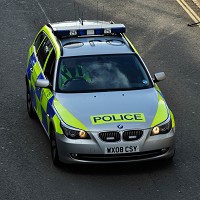 Traffic police are used to coming across some weird and wonderful sights during their work on Britain's road network.
But officers with West Midlands Police got one of the biggest surprises of their careers when they spotted a presumed 'fireball' zooming across the sky.
A camera inside a police patrol car filmed the meteor for 10 seconds as it raced above the M42 motorway near Solihull - and the remarkable footage has now been released for the public to see.
A spokesman for West Midlands Police traffic unit said the phenomenon was recorded in the early hours of Monday as officers exited the southbound carriageway of the motorway.
The force sent a tweet commenting that officers were used "to catching suspects" but they had never before seen a "meteor fireball in the sky".
Residents in other parts of the region, as well as in Wales and the West Country, also reported seeing the meteor at about 3am on Monday.
Copyright Press Association 2014