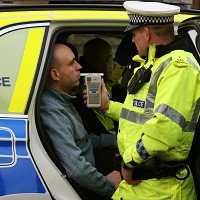 Significantly fewer full-time traffic police officers are on the road in England and Wales, an investigation has revealed.
Auto Express found that numbers fell by almost a third between 2010 and 2015, down from 5,327 to 3,742.
As many as 36 of the 42 forces in England and Wales now have fewer officers at their disposal, despite an increase in the number of road laws.
Just 115 remain on the books in the West Midlands, down from 351 - the biggest fall in full-time numbers seen anywhere nationally.
West Yorkshire traffic cops fell by 75%, blamed on road policing, firearms and dog units moving to multi-purpose teams.
The Metropolitan Police is not included in the results because its alternative traffic police department, the Roads and Transport Policing Command, was part-funded by Transport for London. It has helped lead to a rise in traffic cops in the capital, bucking the national trend.
New lane-hogging and tailgating offences were recently introduced, along with roadside drug-driving tests, and changes to speed limits for HGVs.
The in-car smoking ban came into effect in October, although forces will not issue fines for at least the first three months.
Officer numbers fell by more than 16,000 between 2010 and 2015 across all police departments, as the government cut funding by £2.3 billion.
The National Police Chiefs' Council says individual police forces decide themselves how best to allocate resources and keep their communities safe.
While some may decide to reduce the numbers of specialist traffic officers, it claims this does not necessarily mean that their roads are not adequately policed. A range of resources can still be deployed, plus public information reports and guidance about road offenders can still be used.
Police officers are also available to help those who are traffic policing specialists when needed.
Copyright Press Association 2016. Motoring News articles do not reflect the RAC's views unless clearly stated.