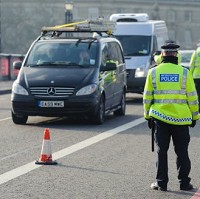 A nationwide reduction in the number of traffic police has been described as "worrying" by road safety campaigners.
There has been a 12% cut in traffic police across Britain in five years, according to data released by road safety charity Brake and webuyanycar.com.
Brake's deputy chief executive Julie Townsend said: "It is desperately worrying such large cuts continue to be made to traffic policing, just as progress is being made to improve the law on deadly drug-driving."
She described the cuts as a "false economy" because traffic police have been proven to save lives and "the crashes and casualties they help to prevent inflict such devastation and are a huge drain on public services".
The figures showed Bedfordshire has seen the biggest cut with a reduction of almost 44%, followed by cuts of around 40% in South Wales and Dyfed Powys and cuts of more than a third in West Mercia and Hampshire.
Scotland has bucked the trend with a rise of almost 4% in traffic police numbers, but in England they have been cut by almost 13% and in Wales by more than 31%.
Copyright © Press Association 2013