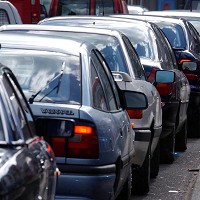 Motorists may face twice as many delays on Britain's roads in 30 years, it has been predicted.
The Department for Transport (DfT) projections show that even a modest population growth and soaring petrol costs would not reduce the amount of time drivers face in queues by 2040.
The number of cars on the road is expected to rise by 10 million to around 38 million, according to predictions.
If that rise is steady, the DfT estimate that average road speeds will drop by 8% and delays will rise by 114%.
This means journeys will take longer - at peak times up to 15% of vehicles on major roads will be in a jam - and cars will spend more time on the road than they do now, making breakdown cover even more essential than it is now.
However, it could be even worse than predicted if the cost of motoring drops.
As cars become more fuel efficient, the cost of motoring could fall by a quarter in real terms by 2040.
"With constrained road space, road traffic growth means greater pressure on the network and therefore higher levels of congestion," the study notes.
Copyright Press Association 2013