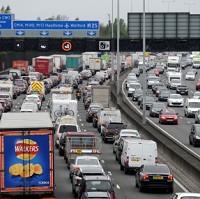 An annual £4.5 billion is the price experts are placing on the cost of traffic jams to British industry.
Lex Autolease's new poll of 1,041 motorists finds that lost working time amounts to 10-figure sums.
The fleet management supplier says that staff spend around a seventh of time (13%) they should be spending at work sat stuck in congestion.
The survey shows that motorists drive for a daily average of an hour and 10 minutes - or 10 whole working days a year - commuting to work and back. For one in 20 commuters this time amounts to over three hours every day.
Only last week London was revealed as the congestion capital of Europe - with motorists spending what amounts to 12 entire working days (96 hours) in jams.
Lex Autolease's managing director Tim Porter says the new results underline the prudence of investing in the UK's road infrastructure.
Mr Porter says that not only are jams getting worse, they are also costing firms seven-figure sums each day because of lost productivity. He describes it as "critical" that ministers keep financing road network improvements to keep the country's workforce moving.
Mr Porter says that Britain's workplace is quickly altering with 8% of respondents now working from home.
Several firms today acknowledge the advantages of home working, with this trend increasingly supported by technology upgrades, including video conferencing and fast broadband, he says.
Such changes can enable workers to benefit from improved flexibility when it comes to working patterns. Mr Porter says these are key measures in keeping down congestion as well as helping companies to become more adaptable.
Copyright Press Association 2015