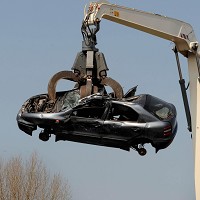 A unique car scrappage scheme offered by a bus company on the Isle of Wight is offering passengers free travel for a year in exchange for their old banger.
The "Really Green Car Scrappage Scheme", launched by Southern Vectis, "will be more environmentally friendly than the Government scheme."
It allows residents to swap an old car, moped, van or scooter for a ticket worth up to £720 to use on the company's buses for 12 months.
In return, Southern Vectis has pledged to scrap every vehicle it takes in to ensure there is a reduction in vehicles on the road.
Marc Morgan Huws, commercial and operations manager, said: "I was mulling over ways of getting people out of their cars in a real but imaginative way.
"The Government-funded car scrappage scheme is one that does nothing to tackle the fact that we have to encourage people to use their cars less."
Copyright © Press Association 2009