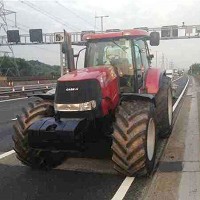 Police have seized a tractor after it was seen driving on the motorway.
The bright red farm vehicle was spotted travelling at "low speed" on the southbound carriageway of the M6 at about 5.25am on Monday, the Central Motorway Police Group (CMPG) said.
Officers said they received a handful of phone calls about the tractor as it was driving illegally between Birmingham's spaghetti junction and junction 5.
It is against the law to drive a tractor on a motorway, but Inspector Mark Watkins said the male driver was unaware he was breaking the law.
He was, however, also found to be uninsured.
Patrol officers were extremely surprised to see a tractor driving on a busy stretch of motorway. The vehicle was seized and the driver left to make his own way home.
Mr Watkins added that it was not clear where the man was taking the vehicle but it posed a high risk to himself and others on the motorway.
Copyright Press Association 2014