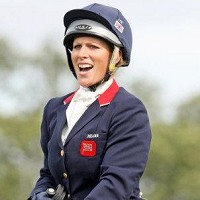 Unlucky drivers will be consulting their car insurance documents after an out-of-control tractor rolled down a hill, colliding with a number of parked vehicles, smashing windscreens and causing thousands of pounds worth of damage.
The tractor, which had no one inside it, crashed into at least two vehicles at the Burghley Horse Trials in Lincolnshire, where Zara Phillips, the Queen's granddaughter was competing.
It is thought the driver left the brake off the vehicle after it had been used to rebuild a fence.
Onlookers reported that several people had to run out of the path of the tractor as it gathered speed.
Miss Phillips, 28, who was not close to the scene, was waiting to ride when the accident took place.
Despite a scare at the water jump, she completed the course successfully and ended the second day of the event in 19th place, several places behind leader Oliver Townend on Carousel Quest.
Copyright © Press Association 2009