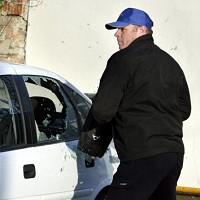 Greater London is where motorists are most likely to have their cars stolen - and recovered, according to new figures.
The UK's capital remains top of the dubious league table for the third successive year, says Tracker, the stolen vehicle recovery expert.
Then comes West Midlands, followed by Essex and Greater Manchester. The South East overall is an active region for car theft, with Kent and Surrey both featuring in the top 10 for the third consecutive year.
South Yorkshire is in the top 10 for the first time, joining West Yorkshire.
Stuart Chapman, police liaison officer for Tracker, said that more than half of all the cars it recovered last year were in Greater London.
Devon and Cumbria had the lowest number of recoveries.
Last year Tracker recovered over £12.5 million worth of stolen vehicles, returning them to their owners.
The average value of the vehicles it recovered was £25,500, with the lowest value at £3,000.
Copyright © Press Association 2013