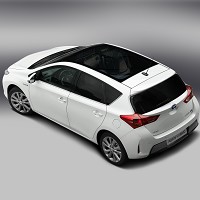 Toyota will showcase its new Auris at the Paris Motor Show next month, revealing the car's new styling, improved equipment and dynamics and greater fuel-efficiency.
With the Auris, Toyota is again showing its desire to add to its well-established reputation for offering reliable, durable and quality automobiles. It is determined to engineer cars that are responsive and dynamic-essentially fun to drive.
The Auris is new inside and out with better quality interior fittings and a bolder exterior look. It also boasts enhanced fuel efficiency and driving dynamics in its powertrain models, even in the top Auris Hybrid model.
The height of the new Auris is 55mm less than the current model and it sits lower than any of Toyota's C-segment models, resulting in a better, more aerodynamic drive with a Cd0.28 drag coefficient that means greater handling stability and fuel efficiency.
Toyota's reputation for building reliable, more fuel-efficient cars should translate into attractive options for drivers looking at car insurance.
The Paris Motor Show will see the new "face" of Toyota in the Auris model's newly-designed grille, more defined headlights and LED daytime running lights that all add up to a car with a powerful presence.
Copyright Press Association 2012