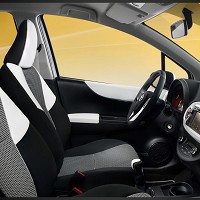 The popular Toyota Yaris Trend has been revamped and improved this year to further its allure to young motorists.
The 2013 model was premiered at the close of 2012 with Toyota's involvement at the Paris Motor Show. This was a continuation of the car's links to fashion that began early in 2012.
The high-specification Yaris Trend model offers buyers fewer options to keep factory and purchases prices down, giving buyers the best value for money.
The Yaris Trend only comes in the 1.3-litre petrol engine, though buyers can choose from either the six-speed manual or the Multidrive S automated manual gearbox. The absence of abreakdown of engine choices should not deter the buyer. The 1.33 engine is a long-time top seller that offers a smooth, extremely quiet ride. If used prudently, the engine is notably fuel efficient.
A rich yellow-brown colour, called ochre, has been added to the seat stitching and dashboard.
The manual model is priced from £14,570, while the automatic version is £1,000 more. The automatic model, which is really an automated manual beneath the bonnet, connects to a stylish gear selector featuring a white insert and ochre stitching.
Copyright Press Association 2013