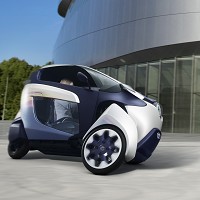 Toyota has unveiled a new three-wheeled electric vehicle that is designed to provide drivers, with a new, flexible driving system for city streets.
The i-ROAD personal mobility vehicle is 850mm wide, like a conventional two-wheeler, which makes it as easy to navigate to navigate through urban traffic.
The vehicle seats two people in tandem and was revealed at the Geneva motor show.
It can travel up to 30 miles on a single charge and Toyota's 'Active Lean' technology means it remains safe and enjoyable to drive, with no need for the driver or passenger to wear a helmet.
It is only the latest innovation by Toyota, which has a 40-year history of researching and developing vehicles that are more energy efficient, environmentally friendly and remain practical.
When it is released the i-ROAD, which is like a hybrid between four and two-wheeled vehicles, could prove popular if it gives drivers the chance to have cheapercar insurance and other road costs compared to traditional cars.
With zero emissions and near silent running, the vehicle is a perfect option for energy-conscious motorists.
Its battery provides a range of up to 30 miles, with recharging from a conventional power supply taking around three hours.
Copyright Press Association 2013