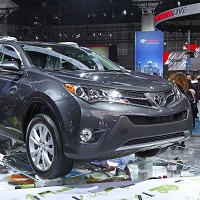 Toyota has revealed a roomier, more fuel-efficient and cleaner fourth edition of its RAV4 SUV at the 2012 LA Auto Show.
The new RAV4 is longer, wider and 25mm lower than the previous generation model. The Japanese car maker has redesigned the RAV4 to be more curvaceous and look more like a car, though it has maintained the vehicle's ground clearance and high stance that have been popular with drivers who want off-road capability and a high perch to view the road. The new RAV4 also sports the updated Toyota guise with a wide grille and expanded headlights that cross into the vehicle's front wings.
The interior has been upgraded. The infotainment features have been moved higher for good visibility in the revamped dashboard that divides into upper and lower parts. Toyota has improved interior materials, using more leather and softer plastics. The company has lowered the position of the seats and given drivers more options to adjust their seat to improve ergonomics and comfort.
Motorists can choose their engine options from the following breakdown--a new 2.0-litre 122bhp diesel, a 2.0-litre 149bhp petrol and the well-known 2.2-litre 148bhp diesel. Emissions vary from 176/km for the four-wheel drive 2.2-litre diesel automatic all the way down to 127g/km for the front-wheel drive 2.0-litre diesel.
Copyright © Press Association 2012