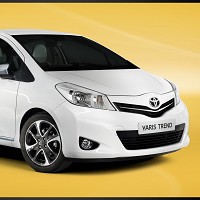 Car giant Toyota has revised the Trend specification fitted to the Yaris model in an attempt to convince younger customers to splash out on a new vehicle.
The Trend, which was first made available last year, is a high-spec model with fewer options to choose from in a bid to keep production costs low.
Toyota said customers will be able to choose between a six-speed manual or multidrive S automated manual gearbox in the latest version, which is priced between £14,570 and £15,570
Those thinking of buying the vehicle and taking out car insurance cover will be keen to learn that it has a 1.33-litre petrol engine.
Customers will be able to select from an increased choice of colours for the five-door vehicle, including the newly added red and grey as well as the white and silver of last year's Trend.
New appearance packs are also available. For the TR Yaris, it includes 15-inch alloy wheels, rear privacy glass and a black decal on the C-pillar.
The pack for the SR Yaris included 16-inch alloy wheels and the black decal, while privacy glass is already standard for the range.
Copyright Press Association 2013