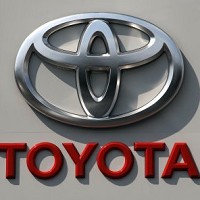 The planet's biggest motor manufacturer admits it is taking a gamble on an emissions-free vehicle, that may not sell healthy annual five-figure sums for two decades.
Toyota is unveiling its new Mirai hydrogen-fuelled vehicle on the road. The sporty model will hit Japanese showrooms next month, arriving in Europe and the US by the middle of next year.
Buying a car from this new four-door range won't be easy in the short-term, however. Toyota plans to only sell 700 in Mirai's first year - that's 400 in its home market and 300 abroad.
Even Yoshikazu Tanaka, the Japanese motor giant's next-gen car development chief engineer, admits it could take until between 2024-2034 to boost annual sales to the healthy five-figure mark.
Mr Tanaka admitted it is a risk to take on such an unproven market.
The new car will retail at 6.7 million yen - or £36,700 - and that's before tax. Another snag, besides the high price, is that there are just dozens of filling stations offering hydrogen across the globe.
Copyright Press Association 2014