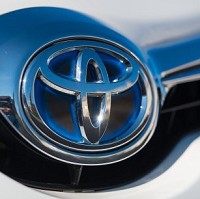 Millions of Toyota-driving motorists are going to be asked to temporarily hand back their vehicles for essential repairs.
The Japanese car manufacturing giant says a glitch on a window power switch could possibly result in the vehicles catching fire.
This could happen if the switch short-circuits, causing components to get too hot, Toyota says. The fault relates to 6.5 million motors across the world built from 2005 to 2010.
The affected models are the Corolla, RAV4, Camry, Yaris and Highlander among others.
Over 40% of the soon-to-be recalled cars (2.7 million) have been sold to North American drivers. The recall also affects 1.2 million European machines and 600,000 in Japan, according to Toyota.
It believes the fault can be attributed to electric window switch modules being inconsistently lubricated during the manufacturing process.
Toyota says that debris can build up from worn electric contact points and result in short circuits. This leads to the switch overheating then melting, with the potential to cause a fire, Toyota adds. But it says it does not know of any such incidents occurring.
Only last year the Japanese manufacturer recalled millions of cars across the globe that had faulty air bags installed.
Copyright Press Association 2015