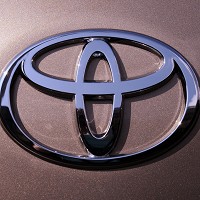 Toyota could soon reclaim its title as the world's top carmaker after a resurgence in sales during the first half of 2012.
The company sold 4.97 million vehicles across the world during the period, a result which could see it surpass its rival General Motors (GM).
GM plans to release its figures for the same period on August 2.
Japanese carmaker Toyota suffered losses following last year's quake and tsunami in north-eastern Japan followed by flooding in Thailand, which hit an important production site.
Massive recalls of more than 14 million vehicles across America due to quality control issues had already impacted sales at Toyota before the disasters hit.
GM, which led world car sales last year, is likely to reach 4.7 million sales for the first half of this year, exceeding the 4.56 million figure for the same period in 2011.
The carmaker was the leader in global sales for seven decades before losing out to Toyota in 2008.
This was linked to a sales dive which saw GM file for bankruptcy protection in 2009, needing a US government bailout to survive.
Meanwhile Volkswagen AG, which came second to GM last year, revealed it sold 4.45 million in the first six months of 2012.
Copyright Press Association 2012