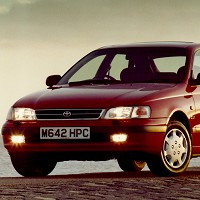 Do you own the oldest British-built Carina E in the country? If so Toyota GB is looking for your car and you could win the chance to spend a week with a next-generation Auris.
The Carina E was the first model of Toyota's cars to be built in the UK at the company's Burnaston factory in Derbyshire.
Twenty years later Toyota GB, the company's British arm, is trying to find the oldest of the cars still in daily use.
Around 17,000 Carina Es built between 1992 and 1997 are still on the road, according to DVLA records, and the firm is asking enthusiasts to help them track down early cars using Twitter and Facebook.
Toyota is asking anyone that sees a K-plate Carina E to tell the owner about the search and suggests leaving a note on the car's windscreen explaining the company would like them to get in touch.
Copyright Press Association 2012