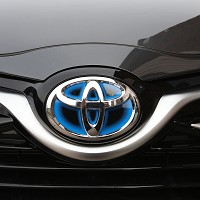 Toyota is to invest heavily in robotics and artificial intelligence over the coming years in a bid to improve the driving experience of its cars.
The Japanese manufacturer has announced plans to create a research institute near Stanford University in Silicon Valley, with a second facility at Massachusetts Institute of Technology in Massachusetts.
It will spend a sum of $1 billion over a period of five years on the centres in the US. One of the firm's main goals is to find ways to improve safety by reducing the likelihood that a car will be involved in an accident.
Making driving accessible to everyone, regardless of ability, is another goal. But the new enterprise is not all about cars, as the automaker also hopes to speed up development of robotics and artificial intelligence.
Toyota's executive technical adviser Gill Pratt is at the helm of the project.
Dr Pratt says the plan is to apply the company's work more broadly. This includes improving production efficiency and accelerating scientific discovery in materials, plus helping to resolve society's future challenges.
Applying Toyota technology used for outdoor mobility to indoor environments is on the agenda, particularly for the support of seniors. Work on the Toyota Research Institute will begin in January 2016.
Copyright Press Association 2015