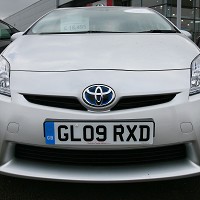 Toyota has been rated the top green brand in an annual survey dominated by the motor industry.
The Prius manufacturer topped the poll for the third consecutive year, ahead of rivals Ford and Honda.
With Nissan at number five and Volkswagen at seven, vehicle manufacturers made up half the top 10 in the 1013 Best Global Green Brands report from consultancy Interbrand.
Toyota is in the early stages of a product launch cycle in which 21 new or updated hybrid models will be marketed by the end of 2015.
In July the 10 Toyota and Lexus hybrids currently offered in the UK will be joined by the new, British-built, Auris Hybrid Touring Sports wagon model.
Toyota Motor Manufacturing UK was the country's first automotive plant to be awarded ISO 14001 certification for its environmental management systems.
Using publicly available data and information, the report gauges the gap between public perception of a brand's environmental performance and its actual environmental practices.
More than 10,000 consumers around the world recognised Toyota for its consistent commitment to sustainable environmental leadership.
It also won praise for its investment in ground-breaking products, such as the Prius, and its programmes for reducing greenhouse emissions, energy consumption and water usage.
Copyright Press Association 2013