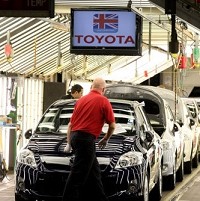 Japanese carmaker Toyota has increased its annual earnings forecast as it continues to recover from the natural disasters that caused profits to slump last year.
The move was confirmed after net profits for the third quarter were shown to have tripled from 80.4bn yen (£623 million) last year to 257.9bn yen (£1.99bn) this year.
Company forecasts now expect to announce annual profits of around 780bn yen (£6.1bn) at the end of the financial year on March 31, 2013, up from its 760bn yen (£5.9bn) estimate earlier in the year.
Last year's devastating earthquake and tsunami severely hampered domestic production in Japan, which resulted in annual profits of 283.5bn yen (£2.1bn) for 2011/12.
Toyota said sales in Japan and the United States had been the cause for a more optimistic outlook for 2012/13, despite an ongoing territorial dispute with China threatening to hurt sales.
Sales in China - the world' biggest individual market - have continued to slump this year, with many consumers boycotting Japanese-made cars in protest.
Copyright Press Association 2012