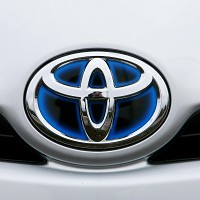 In the three month period from January to March 2012, Toyota's profits of 121 billion yen (£940 million) were more than four times bigger than the same period in 2011, despite a tough year in the aftermath of the tragic Tsunami.
But due to the company's damaged supply chain after the disaster, the fiscal year's profits up to March 2012 fell by 30% to 283 billion yen (£2.2 billion), from the previous year's profits of 408 billion yen (£3.1 billion).
Still, Toyota predicted that there would be a show of recovery and its profits would increase to 760 billion yen (£5.9 billion) in the next fiscal year.
This would be a huge leap from the company's poor profit showing in January to March 2011, when it was only 25.4 billion yen (£197 million) after the March 11 Tsunami.
Toyota's profits were also not helped by the floods in Thailand at that time.
While recognising these difficulties of the past year, Toyota president Akio Toyoda highlighted the strong yen, which has also not been helpful for their profits.
Copyright Press Association 2012