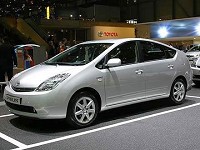 The president of Japanese carmaker Toyota has said that the company`s entire range is to be reviewed to ensure it is meeting consumer demands.
Akio Toyoda, grandson of the founder of the Toyota Motor Corporation, has recently been made the firm's president - replacing Katsuaki Watanabe - and he is now hoping to focus Toyota's offerings to each global region.
As part of the move he said that customers will be put first in an attempt to steer the company out of the economic crisis, which has led to its worst ever sales performance.
Speaking at his first news conference as president, Mr Toyoda said that each of his executive vice-presidents will oversee a global region - North America, Europe, Japan and emerging markets - which will make the company more aware of customer needs and changing buyer trends in those regions.
At the same time as concentrating more on some auto sectors, such as hybrid technology, Toyota will pull out of other areas depending on the region.
Mr Toyoda stepped in as president of the world's biggest car-maker after shareholders voted in favour of his position.
Copyright © Press Association 2009