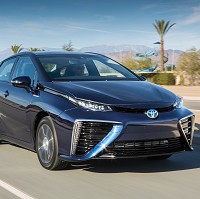 A hydrogen-powered car is capable of travelling more than 300 miles on a single tank, Toyota is claiming.
The landmark was achieved by Toyota's Mirai, which runs on electricity created on demand by hydrogen fuel and oxygen.
Official testing in America shows it has a combined fuel economy of 67 US mpg, making it good for 312 miles on a single fill-up. That is longer than any other zero-emissions vehicle on the market at present.
In the UK, where the car will eventually arrive, that translates to 80.5mpg, which is better than what most superminis can achieve.
RAC spokesman Simon Williams said: "This is a major step forward for a zero-emission production car and really helps to challenge the range anxiety issue.
"A fuel economy figure of 80.5mpg is impressive but it is worth pointing out that the RAC has just set a world record in a conventional diesel-powered Audi A6 ultra for driving to 14 countries on one tank of fuel, which worked out at 1,158.9 miles and at an average mpg of 75.9."
Up until now, people wanting range from their zero-emissions car only had one real option - the Tesla Model S, which can go for 265 miles on one tank. But all that will change when Toyota's newest addition rolls off the production line.
The Mirai is described as the world's first mass-produced hydrogen fuel cell electric vehicle.
Jim Lentz, Toyota North America CEO, says it is poised to usher in a new era of efficient, hydrogen transportation, just as the Prius introduced hybrid-electric vehicles to millions of customers nearly 20 years ago.
Hydrogen fuel cell cars, which use compressed hydrogen as their fuel and release only water vapour as their emissions, have been in development for several decades. Their performance and range figures, however, have not been good enough to replace the average driver's petrol- or diesel-powered car.
But Toyota believes it has finally come up with the answer. The Mirai is said to offer performance that competes with traditional internal combustion engines, in addition to its impressive range of 312 miles.
Drivers can expect to get behind the wheel of the four-door saloon later this year, with Japan and America getting the first deliveries.
The UK and other European markets will only receive small numbers of the car to begin with.
Copyright Press Association 2015