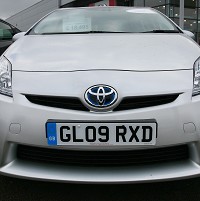 Japanese car-maker Toyota is recalling some 233,000 Prius hybrid cars bought around the world, including around 30,000 in the UK and Europe, to correct brake system problems.
Certain vehicles made between March and October 2009 have been found to have weak brake pressure components that can crack when they vibrate and cause a reduction in response times.
The Toyota Motor Corporation confirmed that the problem has caused no accidents or injuries so far but dozens of owners have made complaints.
Faulty brake parts were also partly responsible for the massive recalls Toyota was forced to make back in 2009 and 2010, amounting to a serious tarnishing of its reputation. Sticking pedals and substandard floor mats were also corrected.
On top of the 233,000 Prius recalls, the company is calling back 9,000 Lexus HS250h hybrid sedans that came off the production line between June and October 2009. They were only available in the US and Japan.
Copyright Press Association 2013