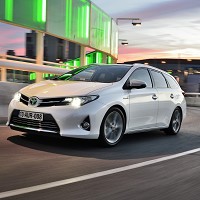 Toyota gave Wales an employment boost on St David's Day by announcing that as many as 70 new jobs are to be created in the north of the country.
The Japanese car manufacturer revealed that the new positions will become available at the engine plant in Deeside. Welsh Secretary David Jones welcomed the news, describing it as a "glowing example" of a global company investing in the UK.
On a visit to the factory Mr Jones called Toyota a "world class manufacturing company" and paid tribute to the work it has done in forging a bond with the local community as well as offering economic and employment benefits.
He also added that the UK government appreciates that manufacturing is "at the heart of a healthy and balanced UK economy" and that the industry is being recognised for excellence across the globe.
The director of the Toyota plant in Deeside, Richard Kenworthy, was equally pleased with the announcement and said it demonstrates that the workers can deliver "superior quality and efficiency" and able the firm to compete in a tough marketplace.
Copyright Press Association 2013