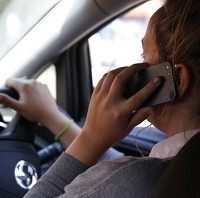 Proposals to combat mobile phone use among drivers by imposing tougher penalties will fail unless more resources are put into law enforcement, the Institute of Advanced Motorists (IAM) is predicting.
The Government wants motorists caught using a hand-held phone while driving to be given four penalty points instead of the current three.
And it wants offenders driving larger vehicles to have six penalty points put on their licence. The Government is also proposing to raise fines for the offence by 50% to £150.
Promising to tackle the problem, Patrick McLoughlin, the Transport Secretary, says he wants to see the use of hand-held phones while driving become as a big a social taboo as failing to wear a seatbelt.
But Neil Greig, the director of policy and research at the IAM, says that while the pledge to combat the problem is welcome, the institute does not think the tougher punishments alone will have a significant impact.
What is really needed, he says, is more traffic police on duty and looking out for offenders on the roads.
Although research reveals the practice is becoming more widespread, Ministry of Justice figures show that only 17,414 people were prosecuted for using a hand-held phone while driving in England and Wales in 2014. That is almost 50% less than the 32,571 prosecutions which were initiated in 2009.
Department for Transport data suggests that the use of a mobile phone while driving contributed to 21 fatal road accidents and 84 serious ones last year.
Copyright Press Association 2015. Motoring News articles do not reflect the RAC's views unless clearly stated.