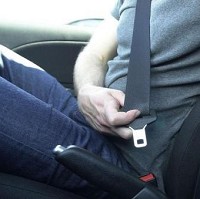 Drivers caught not wearing a seatbelt will face an on-the-spot fine of £60 after tougher fines were announced.
The penalty for failing to wear a seatbelt was £30, but Government ministers said some drivers continued to flout the law.
Home Office minister Alan Campbell said: "The vast majority of motorists wear seat belts but we need to go further to make it clear to those who do not obey the rules that they are not only risking their lives but others too.
"By increasing the fixed penalty, we are sending a clear message to motorists that we will crack down on them if they are caught failing to take this vital safety precaution."
The increased fine is to be backed by a "hard-hitting campaign" which highlights the importance of wearing a seatbelt even at low speeds.
Also facing an increased penalty of £60 are motorists who have illegal number plates, including those with non-standard fonts and spacing.
Police argue some speed cameras and other monitoring devices fail to pick up these registrations.
Copyright © Press Association 2009