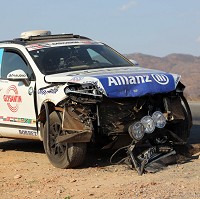 German adventurer Rainer Zietlow tested his Volkswagen Touareg to the limit as he attempted another car journey record.
Zietlow drove the vehicle 17,000 km from Norway to South Africa in a cape-to-cape challenge, setting a new time record as he completed the epic trip.
He had to contend with the odd bump in the road during the journey through a number of countries across Europe and Africa, but it took a collision with another vehicle to set him off track.
Although the crash - which was caused by another driver - delayed the journey, it was not enough to stop Zietlow reaching Cape Agulhas in South Africa in a new record time of 21 days, 16 hours and 36 minutes.
Excluding the time for the repairs, he actually completed the drive across the continents in just eight days, 10 hours and 26 minutes. The previous record for the journey was 28 days.
The adventurer has already set record times for journeys on the Pan-American Highway and from Melbourne to St Petersburg.
Copyright Press Association 2014