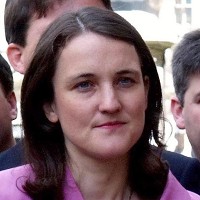 The shadow transport secretary has said that central government funding for fixed speed cameras would stop if the Conservatives won the next election.
Theresa Villiers said fixed speed cameras are not the best way to make roads safer.
Ms Villiers added that under a Tory government, councils would have to prove that the cameras reduced the number of road accidents and would have to raise the money themselves.
She also accused Labour of being "blinded" by the income the cameras generate, and said it had prevented them from looking at other alternatives.
She said: "They should be judged on their merits in terms of preventing accidents."
A spokesman for Safe Speed, which campaigns against speed cameras, called for all fixed speed cameras to be abolished and said this was the "first step towards a return to good road safety."
She added: "After all, a safe speed is not measured in miles per hour.
"The ongoing distraction that cameras have caused, have done nothing to improve road safety.
"Focusing on the wrong road safety policies and messages prevents the correct ones from being implemented.
"We must ensure that road users understand the need to be responsible for all their actions, and that they are encouraged to seek ways in which to improve their abilities, skills, knowledge judgment and attitude."
Copyright © Press Association 2009