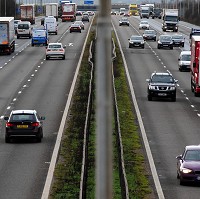 Drivers travelling over the Easter break are being urged by the Institute of Advanced Motorists (IAM) to make sure their car is prepared for all challenges.
Britain's top advanced driver Peter Rodger said that motorists should make sure their lights are in full working order and their tyres have enough tread and pressure. Topping up the washer fluid before setting is another simple but strongly recommended tip.
He also suggests that drivers fill up their car before setting off on long travels, as motorway service stations en route generally charge more for their fuel.
Rodger advises any drivers who start to feel sleepy to pull over somewhere safe and have a cup of strong coffee and a 20 minute sit down or nap to allow the caffeine to take hold. He said that where possible motorists should try and share the driving with fellow passengers.
If you are taking children with you, make sure that you have enough activities to entertain them for the duration of the journey.
"Kids can be distracting and driving can be tiring. But taking some steps to prepare yourself and your vehicle before setting off on your much-deserved Easter break will mean you'll have a far more enjoyable time getting there, and be better able to have a good break when you arrive," Rodger said.
Copyright Press Association 2014