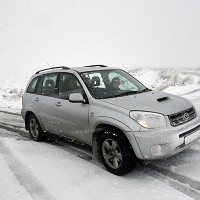 Snowy conditions can be extremely tricky to navigate behind the wheel, so it pays to be prepared.
While no snow is forecast at the moment, Peter Rodger, chief examiner at the Institute of Advanced Motorists, recommends having a plan of action in place, just in case you wake up to a white blanket outside.
He suggests travelling on less-used roads or country lanes. These are less likely to be gritted than main roads, so plan your journey before you set off, plus make sure all windows and mirrors are cleared of snow and ice.
You should also take the time to get rid of any snow that has piled on the roof and the bonnet of your car, the expert believes.
Speed is something else you need to think about carefully.
Driving too fast means you risk losing control and causing an accident, while driving too slow means you risk losing momentum when getting up a slope, Mr Rodger said.
Copyright Press Association 2014