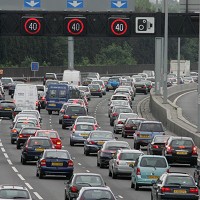 Dealing with roundabouts is the latest subject for tips from a major driving safety charity.
Advanced driver Peter Rodger urges motorists to start by looking well ahead and using their mirrors to check on the traffic near to them.
If you look at the whole process as one manoeuvre you will plan on your choice of lane, the moment you enter it and your signals, says Mr Rodger, of the Institute of Advanced Motorists (IAM).
Be ready to make changes, though, to allow for unpredictability of other drivers, he adds.
Give yourself plenty of time to signal and look for a space in traffic ahead before you get to the roundabout. At the same time look out for the car ahead because it might not go for the space you'd expect.
When approaching the roundabout, consider the exit you want and keep left to go left or straight on. Choose the right hand lane when exiting right but look out for guide markings on the road and try to make sure you allow lots of space for other vehicles.
Your slowing down should be smooth and, once again, take into consideration other motorists, then select the appropriate gear. A last check in the mirrors is in order, particularly with the one on the side where you are turning.
Once at the roundabout, you should accelerate smoothly into a gap between vehicles, just like at any junction, says Mr Rodger.
Copyright Press Association 2014