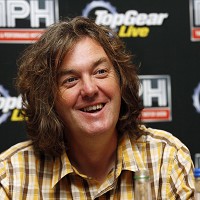 Top Gear host James May has emerged as an unlikely advocate of cycling.
The TV presenter says he is the owner of three bikes, including a fold-up bicycle he uses to make short journeys around the area of his west London home.
May has lent his voice to a campaign by newspaper The Times, which is calling on the Government to make a yearly budget available to create safe cycle routes across the UK.
He's also calling for an end to "road sectarianism" and has urged everyone from cyclists, taxi drivers, motorcyclists, bus and lorry drivers to make a special effort to get along with each other on the roads in the interests of safety.
May says the roads belong to everyone and - while he admits cycling is not going to solve all the world's problems - he insists encouraging bike use will help to ease congestion on the UK's roads, which he describes as "ludicrously overcrowded".
Copyright Press Association 2014