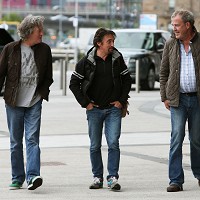 Filming has started on the show that is to reunite the former presenters of Top Gear.
Jeremy Clarkson, James May and Richard Hammond are back in front of the cameras following their fall-out with the BBC.
In July Amazon Prime announced the tie-up with the stars for its online programme. Clarkson, 55, confirmed shooting had begun after they signed what he calls a very expensive contract to present an as-yet unnamed motoring show.
May has previously indicated that many decisions about the show's content are yet to be taken, while speculation suggests the programme could be called Gear Knob.
Clarkson contradicted this, however, claiming that much of the detail has now been thrashed out after much hard work involving Andy Wilman, their former producer at Top Gear.
Without giving too much away, Clarkson has chosen social media to tease little snippets of detail concerning the new programme.
Instagram users believe the trio have been filming in Portugal after Clarkson posted a photograph of a sunrise on a day he called "special".
He put up another photograph for his 5.6 million Twitter fans of the presenters and off-camera staff standing by a trio of supercars. It was accompanied with confirmation that shooting had started on the new project.
Hammond also shared a photograph of the sunrise, saying that it felt "brilliant" to have the team back together again.
May called their first day back at work "great", claiming that he found it difficult to stop looking at a Ferrari on the race track.
The threesome's work at Top Gear continues to be recognised, despite no longer working for the BBC2 flagship motoring magazine show.
It has been short-listed for the National Television Awards' Factual Entertainment section due to be judged next year.
Hammond, May and Clarkson departed the BBC when the broadcasting corporation refused to give them a new contract. This followed a bust-up between Clarkson and one of the programme's producers.
Copyright Press Association 2015