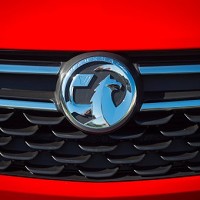 A four-wheeled star of Top Gear has been auctioned for charity.
The show's resident Vauxhall Astra fetched £17,800 for BEN, the car industry charity. The red family hatchback is best known on the BBC2 motoring magazine programme for the Star in a Reasonably Priced Car feature.
This is where celebrities are timed as they race around one lap of the Dunsfold Park circuit.
The car was given back to Vauxhall when the last Top Gear series was cancelled early. This followed co-host Jeremy Clarkson's disagreement with a member of the production staff.
The model, which only has 2,908 miles (4,679km) on the clock, attracted as many as 67 bids. Its final £17,800 price was £315 more than a similar Astra would have cost from new.
It was over twice the amount a similar vehicle of comparable age with no TV links would have fetched, according to valuation specialists.
Hugh Jackman, Gillian "The X-Files" Anderson, Will Smith, Benedict Cumberbatch and Ed Sheeran are among the stars who have got behind its wheel for the programme.
The latter left Top Gear makers checking the show's car insurance after he revealed he had not passed his test when the time trial was scheduled .
Fellow singer Olly Murs, the X Factor co-presenter, eventually proved the fastest in the show's Astra time trials.
The successful bidder who now owns the ultimate in Top Gear mementos will find it has the usual 1.6-litre petrol-powered engine. It comes with sat-nav, alloy wheels, Bluetooth mobile connectivity and digital radio.
Other special features were incorporated for its television appearances.
These included roll cage plus safety-enhanced racing seats. Not that the standard Astra pays anything other than meticulous attention to safety. This month it was one of 11 vehicles which were given five-star NCAP safety ratings .
An eBay ad described the bodywork as being in "good" repair. It added that a few "minor marks" were visible and the inside door panels had seemingly been changed to facilitate the special roll cage.
Copyright Press Association 2015. Motoring News articles do not reflect the RAC's views unless clearly stated.
%20http:/www.rac.co.uk/advice/motoring-news/11-cars-given-five-star-safety-rating (given five-star NCAP safety ratings)