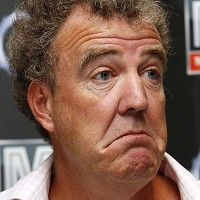 A spoof advert on BBC2's Top Gear has been deemed too graphic for its 8pm time slot by broadcasting regulator Ofcom.
The watchdog criticised the show for showing a scene, which prompted 50 complaints, in which a man was seen to shoot himself in the head.
The scene on the show - hosted by Jeremy Clarkson, Richard Hammond and James May - was part of a mock remake of a VW car advert screened in August.
Ofcom said viewers would not have expected such a violent scene and ruled it could not be justified.
However, the BBC defended it highlighting "the ludicrous and obviously comic depiction of the suicide".
The scene was cut during a repeat of the show the day after, broadcast an hour earlier, because it was thought children would more likely be watching.
Ofcom said although it "was not aimed specifically at children, the programme regularly attracts a strong child audience and the broadcaster should have taken this into consideration when including the scene in the later broadcast".
The regulator also highlighted that there had been no warning, adding: "These factors taken together meant that the scene exceeded audience expectations for the programme and led Ofcom - on balance - to conclude that there was no editorial justification for its inclusion."
Copyright © Press Association 2009