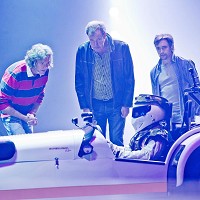 Jeremy Clarkson, Richard Hammond and James May will soon be coming to an arena near you.
Top Gear Live has announced its first ever UK-wide tour and the trio of presenters will be coming along for the ride, performing their latest and greatest motoring stunts to audiences up and down the country.
The show, which has accelerated down the fast lane to become a true global hit, brings the popular television programme to life on a big stage, playing to almost two million petrol heads in 22 countries to date.
Fans can expect to see an abundance of expensive supercars, breathtaking stunts and huge explosions - not to mention The Stig - with dates confirmed in Liverpool, Newcastle, Belfast, Sheffield and London.
The curtain raiser at the Liverpool Echo Arena in February will be the first Top Gear Live performance in the UK since a short run of sell-out shows in Glasgow earlier this year, so fasten your seatbelts and prepare to be entertained.
Moscow, St Petersburg, Glasgow, Budapest, Zagreb, Turin, Prague, Sydney, Barbados and Durban are just some of the places to have hosted the show in the last 12 months.
Copyright Press Association 2014