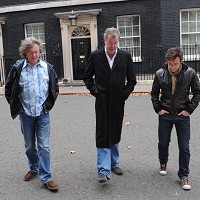 Top Gear's executive producer says the childish antics of "three badly-dressed, middle-aged men who bicker, fall over and catch fire" are a big hit with the public because people need an escape outlet in their "bloody hard" lives.
Andy Wilman said Jeremy Clarkson, James May and Richard Hammond's stunts and banter help viewers reconnect with their nine-year-old selves as a "release valve" from the pressures of the modern working grind.
The Top Gear boss also hit out at the constraints of the workplace - widely regarded as a dig at the BBC's strict levels of compliance.
On its journey from moderately sober car review series to light entertainment juggernaut, the BBC2 flagship show has caused upset more than once thanks to comments made by the presenters. In 2012, it was found to have broken producer guidelines when Jeremy Clarkson made comments about facial deformity.
Speaking about the show's escapist element, Mr Wilman told the Radio Times that even if you are actually nine years old, you need to watch something "that isn't a computer screen". And he said that whether you are 29, 39 or 59, "part of your brain will most likely still have a mental age of nine".
Railing against modern life, Mr Wilman added that workplaces "are not freer, but more regimented". The Top Gear producer also lambasted "management systems and nonsense enforced by going on courses" and pointed out that email has not decreased workloads for people, but piled it on.
The producer said that workers are burdened with a sense of being accountable and producing results means that they need a form of escape - and that's where Clarkson and co come in.
Top Gear briefly lights up "the path to nine-year-old escapism" during "one hour a week where absolutely nothing is achieved", Mr Wilman said, adding that this is an important service for hard-working people.
Copyright Press Association 2014