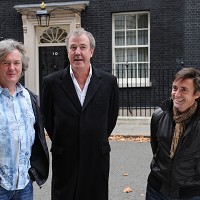 Petrolheads in France will soon be able to watch their own version of the popular BBC series Top Gear.
Presenters of the UK show are often filmed driving the latest cars across the Channel due to France's stunning landscapes and roads.
Two of them, Jeremy Clarkson and Richard Hammond, were fined and temporarily banned from driving in the country when they were stopped for speeding while making a Top Gear Perfect Road Trip DVD.
They might be unpopular with the police but the attitude of the French motoring public seems to be different judging by the ratings the UK show gets on TV in the country.
Now BBC Worldwide France and RMC Decouverte are combining to produce a dedicated French version, with filming set to start later this year ahead of a debut on TV in 2015.
The Top Gear format is one of the BBC's best exports, with shows specifically for the Australian, Korean and US markets. A Chinese show is also planned before the end of 2014.
BBC Worldwide director of entertainment brands, Adam Waddell, says the French presenters will put their own stamp on the show in terms of personality and humour as Clarkson, Hammond and James May have here.
Top Gear joins the Great British Bake Off, The Weakest Link, Antiques Roadshow and Strictly Come Dancing, which have been already been adapted by BBC Worldwide for television in France.
Copyright Press Association 2014