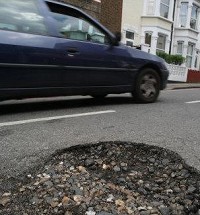 The state of the nation's roads is a pet hate of UK citizens, a poll conducted for the Institution of Civil Engineers (ICE) has revealed.
The number satisfied with the condition of the roads has fallen from 58% last quarter to 54% in the current round of research.
ICE director general Tom Foulkes said: "You cannot blame the public for becoming dissatisfied with the state of our highways.
"With an estimated £1 billion road maintenance backlog, there are too many roads in need of proper repair that are deteriorating further by the day."
All key public services scored poorly in the investigation, with satisfaction levels for public transport, electricity and gas supplies and rubbish services all declining on scores recorded in the previous quarter.
The survey also found that 39% of respondents wanted to see more investment in rubbish disposal and 37% wanted to see more money pumped into public transport.
Declines were also recorded in provision of flood defences - down to 63% from 71% - and drinking water and sewage services - which fell from 92% satisfaction to 71%.
Copyright © Press Association 2009