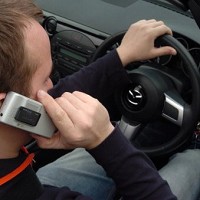 Millions of motorists are losing faith in traffic police and believe the chances of seeing dangerous drivers being penalised are decreasing.
The RAC Report on Motoring 2014 suggests as many as three-fifths of UK drivers blame a lack of police presence on the roads for the problems.
While 75% say they regularly see other drivers using their mobile phones at the wheel, only 29% are confident the offenders will get caught.
Just over half of respondents claim it unlikely that people will be apprehended for texting while queuing in traffic. Meanwhile less than a quarter think motorists who hog the middle lane or tailgate will be pulled over.
The survey suggests that people's lack of faith is being driven by an "insufficient" amount of traffic officers on the road - with 60% of those surveyed claiming there are too few.
It also found that 40% of motorists think there is little chance aggressive drivers will be stopped by police.
Only three million of more than 35.8m drivers have points on their licence.
RAC technical director David Bizley said: "Our research shows that millions of law-abiding motorists are frustrated with the reduction of traffic police and believe that the chances of drivers being pulled up for breaking the law are now minimal.
"Motorists are tired of constantly seeing other drivers breaking the law and getting away with it so it is hardly surprising that they want to see a greater police presence on our roads to enforce motoring legislation more effectively, which would also act as a genuine deterrent.
"It is no wonder that a third of motorists (34%) are concerned about other drivers talking on hand-held mobile phones and one in five (22%) about other motorists breaking traffic laws generally."
On speeding, Mr Bizley added: "40% of motorists admit to breaking the limit on country (43%), urban (42%) and 20mph roads (44%), but by far the worst non-compliance is on motorways where the figure rises to 67%, perhaps a symptom of today's lower police presence and the fact fixed speed cameras are not used to enforce 70mph on motorways.
"Against this background, it is not surprising that 70% of drivers told us that the motorway speed limit should be raised 80mph or above."
Copyright Press Association 2014