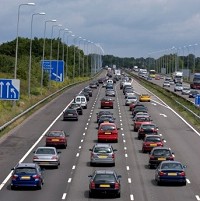 TomTom has unveiled the latest edition of its real-time traffic information service.
Presented at the ITS World Congress in Vienna, the new TomTom HD Traffic 6.0 is designed to help motorists reach their destinations more quickly by offering more accurate information about road closures, jam locations and roadworks.
Two new forecasting features tell drivers if congestion is getting better or worse and give estimates about how long a traffic jam will continue.
The upgraded HD Traffic 6.0 can identify 65% more road closures than the earlier 5.0 version. The new service also makes use of GPS data to correct any reports on roadworks given by official sources.
This means that when calculating thejourney planner , the HD Traffic 6.0 won't send drivers down closed roads, alleviating both detours and frustrations.
TomTom spokesman Ralf-Peter Schafer said: "We're delighted to bring the enhanced version of HD Traffic to government and business.
"With improved road information, drivers can get to their destinations even faster. And with the new traffic forecasting features, government organisations can more effectively decide how to deal with congestion. This might be by using signs to reroute traffic, controlling traffic lights or, indeed, if the jam is dispersing, not taking any action at all."
Copyright © Press Association 2012